At some point in 2012, Bruce Cohn and I decided to embark on a collaborative art project, combining his photography with my collages. This was prompted by his signing up for a photography workshop in Argentina in February, 2013. The workshop will use Buenos Aires as a base and the group will photograph three nights of Carnaval, a tango club, and make day trips to several colonial towns outside the city.
Bruce is an accomplished photographer, but has been away from it for awhile and wants to use the workshop to get back into the swing again. It was only a short hop for me to suggest a collaboration, since my collages are all about the Argentine tango and Buenos Aires. I've been making these collages for a few years and could use a little creative infusion. Bruce and I have a playful, respectful, and energy-filled relationship. We never tire talking about art. It seemed like this was all good stuff to bring to a collaborative project in the studio. Who knows where it could lead?
Our first collaborative artistic adventure, Bruce and I
showing our work together at the Staten Island Museum's
annual Fence Show, Sept. 2012
To formalize the collaboration and motivate us to actually carry it out, we decided to apply for a grant* from COAHSI, the Council on Arts and Humanities for Staten Island. Bruce lives on the South Shore and one of the things about Staten Island is that there is a huge Mason-Dixon type divide between the South Shore and the North Shore. Since I'm a well-established (North Shore) art citizen here, I know that most art projects and artists are clustered on the North Shore. COAHSI is always looking for projects that take place on the South Shore. Bruce has all kinds of connections and scored us a venue for our grant project at the Tottenville Library on the South Shore. We just found out that we won the grant (yay!). Full steam ahead for a November, 2013 exhibit at the library!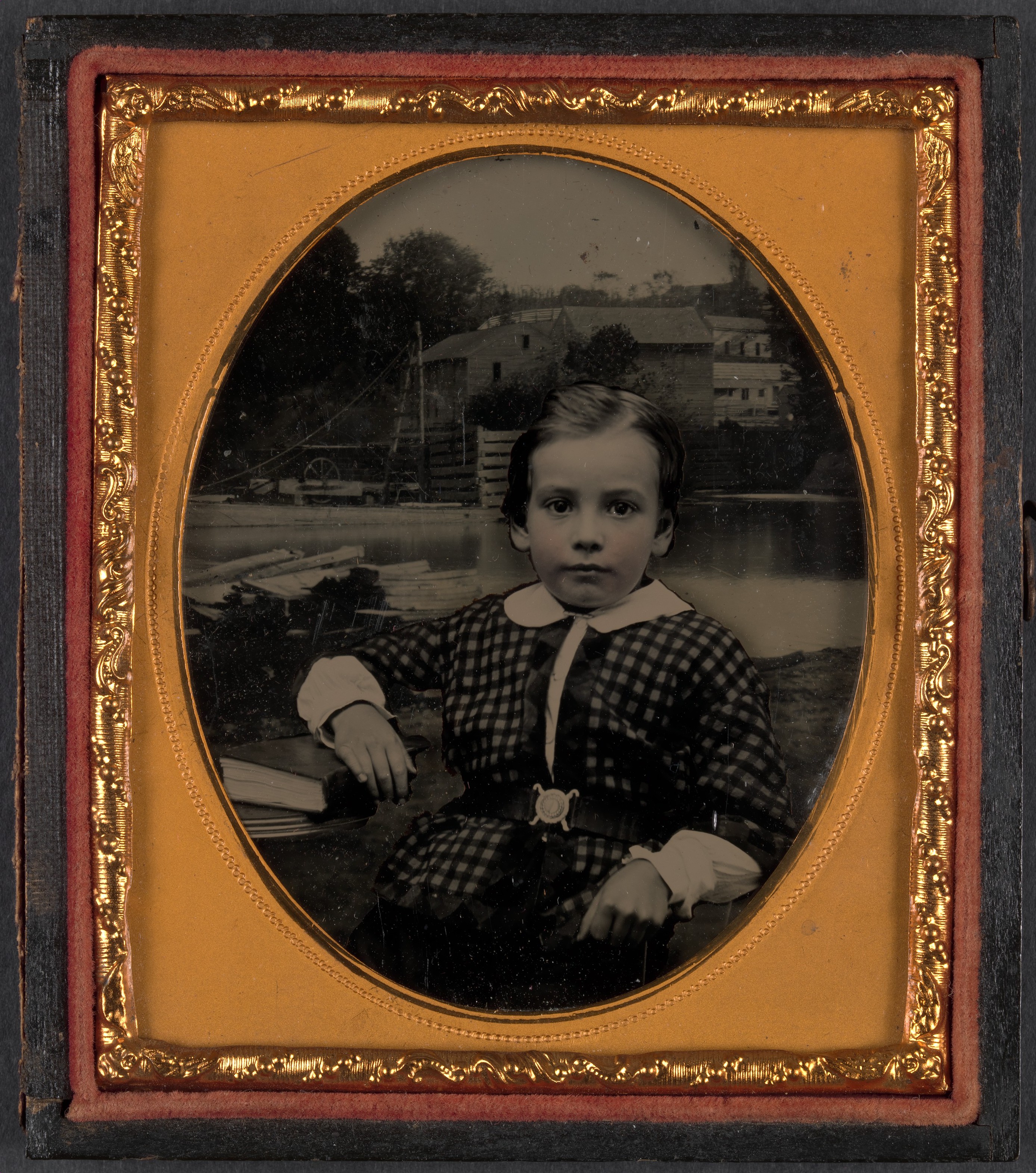 Portrait collage ca. 1860,
ambrotypes with applied color
Bruce and I have been thinking about innovative ways we might combine our two art forms. We have been looking at alternative photography techniques. Bruce makes pinhole photos and I participated in a pinhole photography workshop he volunteered for at the Alice Austen House (not so coincidentally the financial conduit for our grant). During Hurricane Sandy we made photograms until the lights went out. For me it's been very helpful to go back to the very basics of photography.
We recently visited the exhibit Faking It: Manipulated Photography Before Photoshop at the Metropolitan Museum of Art. There we saw this tiny ambrotype (photograph printed on glass). You can't really tell from this photo that it's painted on glass. That's why we go to museums to see art. A lightbulb went off in my head - you can print photos on glass???? Sounds like fun! Bruce knew about liquid emulsion, which enables one to print photos on all sorts of surfaces.
We got ourselves some liquid emulsion and gathered together some materials; some of the papers I use in my collages, plywood treated with various finishes, and some ceramic tiles left over from a bathroom project. As with most experiments, we had successes, failures, and happy accidents. Here are some examples.
Photograph
©
1979
Bruce Cohn,
printed on plywood treated with
matte acrylic medium
Photograph

©

1979

Bruce Cohn,


printed on ceramic tile
We love the warmth and pattern of the wood in the sample on the left. The image on the ceramic tile lifted up in the water wash, but when it dried it settled back onto the surface of the tile and made those wonderful black cracks. We now know how to make it adhere, but would like to try recreating this happy accident.
It's just a start. We can't wait until Bruce comes back from Argentina in February with images so that we can get to it in the darkroom and studio. In the meantime we will continue our experiments and plan out our project timeline. We're hoping this project takes our art to some place completely new. Stay tuned!
*
This project is made possible (in part) by an Encore Grant from the Council on the Arts & Humanities for Staten Island, with public funding from the New York State Council on the Arts.